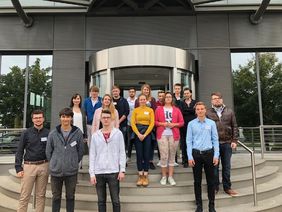 On September 1, 2018, four girls and ten boys have started their apprenticeship within the Fritzmeier Group, an internationally operating company for Cabins, Plastics, Technology and Environmental solutions.
At 8:00 o´clock the apprenticeship leader Kristin Herrig warmly welcomed the apprentices with "Butterbrezen" and a starter package. Also Mr. Rupert Fritzmeier, the entrepreneur of the Fritzmeier Group, welcomed the young people personally and wished each one a good start into the new phase of life.
Numerous presentations and information, company tours, many new faces, and first safety briefings awaited the apprentices on their first two days.

In order to make it easier for new trainees to enter their professional lives, a lot of time was spent on planning an extensive two-day framework program and a mentoring program for the coming years of training. For this purpose, each starter is accompanied with an experienced employee to clarify questions, needs and concerns as quickly as possible.
Additionally to the wide variety of apprenticeships, Fritzmeier also offer the possibility of a dual study in cooperation with the University of Rosenheim. This enables the OEM supplier, the same as in every year, the possibility to train future specialists and managers.
In this context, we wish our new apprentices a good start and an experience -rich time at the company!